Beginning Boy Scouts
Order the Beginning Boy Scouts book from Amazon or your favorite book store. It is also available as a digital eBook for the Nook and Kindle. Please contact us for lower-cost bulk orders for troops and stores.
This book introduces the Boy Scouts of America program for parents and new adult leaders. It is an unofficial introduction to Boy Scouting to help parents, new leaders, and even scouting youth to better understand scouting goals and participate in Boy Scouting. It quickly answers numerous common questions and provides instruction and advice for concerned and desperate parents and leaders — to help know "what is first?" and how to get started, preparing for outdoor activities and summer camp, uniforms, leadership and the Patrol method, earning awards and badges, Eagle planning, how to participate, and a lot more. It introduces the terminology and defines the common scouting lingo.
The purpose of this book is not to replace official Boy Scouts of America materials or training -— we encourage leaders to attend and complete official training. In addition to the sage advice for new and experienced parents and scoutmasters, this book includes references to point the parents and leaders to other instruction.
This book is short and sweet — designed to be quickly read once to understand the purpose and structure of the Boy Scout program and set goals and milestones — and then used as a reminder guide to evaluate progress to help you and your boys achieve success. The authors of this book — a Boy Scout as a youth and adult and parents of Boy Scouts — share real-world experiences and provide practical advice for scouting as a character-builder for boys and as a lifelong activity.
Price: US$11.95
ISBN: 978-1-937516-01-7
Pages: 150 (paperback)
Publishing Date: September 2011
Book dimensions: 6 x 9 inches
Table of Contents
Introduction
Getting Started
The Patrol Method
Adult Leadership
Meetings, Activities, and Administrivia
The Uniform and Scout Supplies
Rank Advancements
Merit Badges
Other Awards, Achievements, and Recognitions
Setting Goals and Keeping Track
Camping and Outdoor Activities
Summer Camps, High Adventures, and Special Events
Earning the Eagle
Subject Matter Experts
Our technical reviewers and subject matter experts included: Unit Commissioners, Scoutmasters, parents of Eagle Scouts, Unit Committee Chairs, Committee Chair for Jamboree troops, District Camping Chair, Chartering Organization Representatives, District Webmaster, Assistant Scoutmasters, District Commissioners, Assistant Council Commissioner, Eagle Scouts, Camp Staffers, Commissioner Staff, Explorer Post Advisors, District Committee members, professional Senior District Executive, Venturing Crew pioneer, Troop Advancement Chair, Webelos to Scout Transition Chair, and more.
Reviews and Reader's Comments:
If you've enjoyed Beginning Boy Scouts, could you please take 30 seconds to leave a short review at Amazon?
Feedback
The publisher welcomes feedback. If you have any suggestions or comments about the book or would like to report an error, please email us at info@reedmedia.net.
We plan to publish a Beginning Cub Scouts book in 2012.
BEGINNING BOY SCOUTS IS NOT AN OFFICIAL PUBLICATION OF THE BOY SCOUTS OF AMERICA. THIS PRODUCT IS NOT ENDORSED OR SPONSORED BY THE BOY SCOUTS OF AMERICA. 50 MILER, BE PREPARED, BOY SCOUTS OF AMERICA, BOY'S LIFE, BSA, CUB SCOUTS, JAMBOREE, MERIT BADGE, NATIONAL EAGLE SCOUT ASSOCIATION, ORDER OF THE ARROW, PHILMONT, SCOUTING, SCOUTMASTER, SCOUT SHOP, VARSITY SCOUT, VENTURE, VENTURING, AND WOOD BADGE ARE REGISTERED TRADEMARKS OF THE BOY SCOUTS OF AMERICA.
Order the Beginning Boy Scouts book from Amazon or your favorite book store. Please contact us for lower-cost bulk orders for troops and stores.
Please help us market our book on Facebook by liking our page:

Getting started with BSA scouting Getting started with boy scouting Getting started with boy scouts
free newsletter articles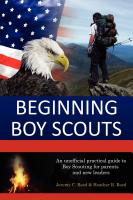 Buy Now from Amazon
Like our book on Facebook: